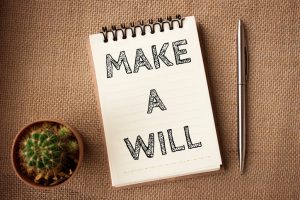 According to the National Center for State Courts, the frequency of people proceeding in legal matters without an attorney is increasing. Handling a legal matter without an attorney — any legal matter — is filled with potential risks and pitfalls. Some people may think that, because creating a will or a trust often involves many straight-forward factual matters and relatively few murky, complex concepts of the law, that representation by a skilled attorney isn't really needed. That kind of thinking is often a serious mistake. Going forward without an experienced Hoboken estate planning attorney may seem frugal but, when problems arise later, you'll be glad you had representation provided by a knowledgeable legal professional.
Take, as an example, the estate of V.O. V.O. was a Middlesex County woman who died in March 2019 at age 83. Three years earlier, V.O. made the wise decision to retain an attorney and execute a will. The will said that, after the payment of certain specific gifts, her two sons, D.Y. and M.Y., should receive the rest of her assets on a 50-50 basis. One of those specific gifts went a third son, J.Y., to whom the mother left exactly $1,000.
D.Y., whom the mother named as the executor of her will, submitted the will to be probated. J.Y. filed something called a "caveat," which is the legal document you must file to contest a will. J.Y.'s argument was that his mother was under the "undue influence" of D.Y. when she signed the 2016 will.
The trial judge concluded that "there wasn't any real meat to" J.Y.'s claims, but that the claims were based on "a lot of supposition." One key reason that V.O.'s will survived the son's attempted challenge was the quality of the document she received from her attorney. The trial judge, in ruling in favor of the executor, pointed out that V.O. had a will that was legally very strong. The trial judge took note of the fact that the will was "very well laid out," included a specific bequest of $1,000 for J.Y., completely complied the New Jersey statutes that govern probate estates and was also "properly executed . . . [and] properly witnessed[.]"
Proof that the testator was 'clear-headed, alert and strong-willed'
Another key way that this attorney helped V.O. and her family was what he did after she had passed. In the will contest case, the attorney testified that, in serving as V.O.'s attorney for the purpose of creating her will, he consulted with the woman privately, that he read the will aloud to V.O. and that he had his own sons witness the signing. The attorney testified that the woman was just as "clear-headed, alert and strong-willed" as she had been the year before when the same attorney represented her in a zoning case.
The attorney recalled specific details of his conversations with V.O. in which she displayed her sharpness of mind and her notable independence of thought. This impactful testimony greatly weakened J.Y.'s case of undue influence. Without such a well-written will and without the strong testimony about how V.O. clearly was not under undue influence when she signed that will, all of which were provided by the attorney, V.O.'s estate — and her estate planning goals — could have been in much greater danger.
It's easy to think that you can go on the internet or buy a book at the bookstore and do your estate planning on your own. But before you do, think about what you'll leave behind for your loved ones, and how important that is to you. With something that is this deeply personal and extremely important, why not make sure it's done right? Contact Hoboken estate planning attorney Frank Marciano to get the advice – and a will and other estate planning documents – that you need to make sure that the legacy you leave behind is exactly the one you intended. To set up a consultation, contact the office online or call 201.656.1000.