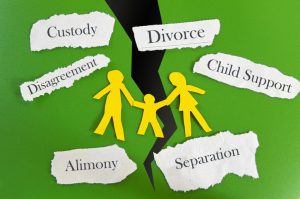 Divorce is something that, in many cases, has sweeping reach that touches many areas of your personal life. It is also something that can have serious effects on your "legal life," as well. If you have created an estate plan (though a will, a trust and/or other legal documents,) your separation or divorce can have a major impact on how those legal documents work. Those impacts may potentially provide you with even more reasons to make sure you are completing your divorce without delay. To get that divorce finished efficiently and effectively, and to be sure that all your legal documents do what you want them to, be sure you're working with an experienced Hoboken divorce attorney on your case.
In terms of the effect separating and/or divorcing can have, there's a real-life case from recent months that is a good example. Last September, famous musician Ric Ocasek died in Manhattan at age 75. For more than 25 years, Ocasek had been married to model Paulina Porizkova. However, in 2018, Porizkova posted on social media that she and Ocasek had separated in 2017, according to People.com. Two months after Ocasek's death, news reports indicated that Ocasek had excluded Porizkova from his will. The will stated that the pair were "in the process of divorcing" and that Porizkova was not entitled to anything from his estate "because she has abandoned me."
Ocasek died in New York City, so his e
Paper cutout family with divorce related messageste likely will not be administered in New Jersey. However, you might wonder, what would happen in a situation like this in New Jersey? The reality is… it depends.
New Jersey law says that a surviving spouse generally is entitled either to take what she is slated to receive under the terms of her spouse's will, or to "elect" against the spouse's will, which means that she gets 1/3 of the spouse's assets. She can make that choice and take that 1/3 cut even if the deceased spouse's will intentionally disinherited her, specifically stating that she should receive nothing from the estate.
There are, however, some situations in which a surviving spouse is not eligible to choose this "elective share." One way is if the couple was divorcing, separated and living separately. The New Jersey statute covering a spouse's right to claim an elective share says that if the spouses had "been living separate and apart in different habitations" or had "ceased to cohabit as man and wife," then that could mean that the surviving spouse isn't eligible and can only get whatever the will says.
In the case of an estate like Ocasek's, there is certainly potential evidence upon which the estate could rely in order to exclude the wife, as the wife's social media posts might work strongly against her. Porizkova's declaration in 2018 that the couple was separated, had been separated for a year and were in the process of divorcing could possibly be strong evidence that the wife was not eligible under the law for the elective share.
Finalizing your divorce may help protect you
So, if you desire to leave your soon-to-be ex-spouse nothing, or any amount less than 1/3 of your total assets, it is probably to your financial benefit to proceed with your divorce will all due speed. Finalizing a divorce is often painful but, if you've decided that your marriage is truly not salvageable, then a judgment of divorce often can provide you both the emotional benefit of closure along with the financial benefit of protecting your assets from statutory rights reserved for surviving spouses (such as elective share laws.) While you may be able to exclude your estranged spouse, you very likely would be able to disinherit your ex-spouse, and likely be able to do so with less, time expense and litigation.
A prenuptial agreement is another possible option
Another way potentially to short-circuit time-consuming, expensive and adversarial litigation may be a prenuptial agreement. With a prenuptial agreement, you and your spouse-to-be can decide on your own, without requiring a court proceeding, how you would like your assets to be divided in the event of a divorce and how you'd like to deal with elective share rights in the event of a spouse's death.
One of the things that spouses are free to do in a New Jersey prenuptial agreement is to waive their right to take an elective share if their spouse dies before them. A prenuptial agreement may be a helpful way for you and your spouse-to-be to decide these issues before conflict and/or complications set in.
There are many ways to take control of your financial affairs and make sure that your wealth benefits the people you want it to, and not those you don't. One way to do that may be finalizing a divorce action. Another may be to execute a prenuptial agreement long before discord and divorce enter the picture. Either way, be sure you have knowledgeable counsel on your side. Experienced Hoboken family law attorney Frank Marciano has been helping families for many years to use the law and the legal system to meet their needs, whether though prenuptial agreements, divorce or other means. To set up a consultation, contact the office online or call 201.656.1000.