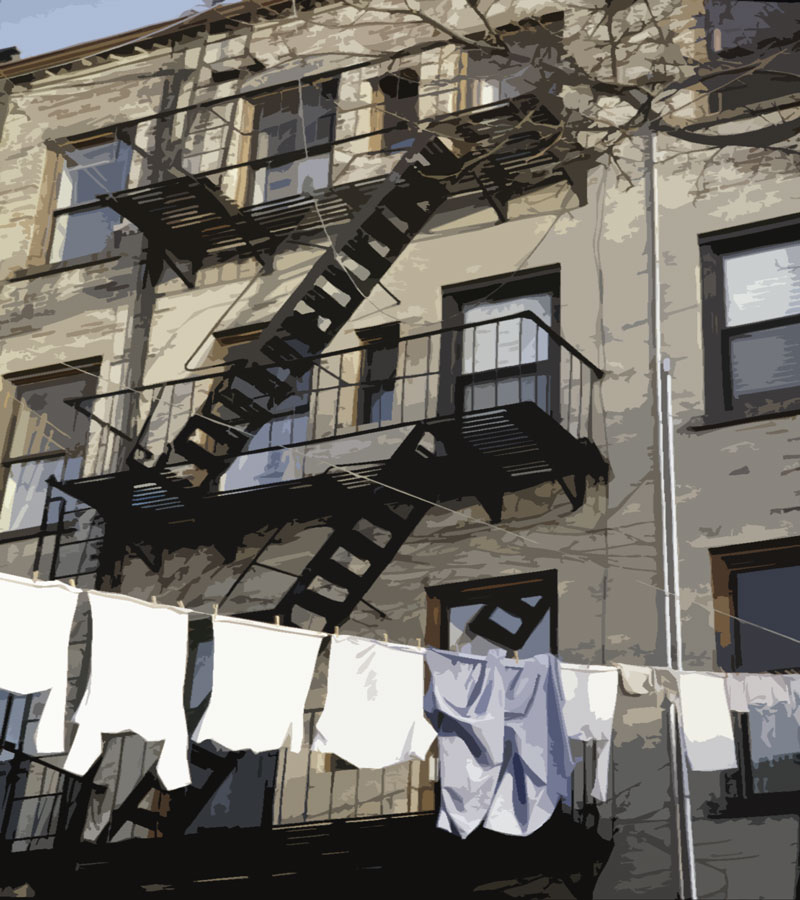 In the old days, Hoboken families didn't have wash and fold, it was more like hang and dry.

It is hard to predict where the economy is headed, some pundits are even analyzing underwear sales to gauge the state of the economy, I will leave such esoteric punditry to MSNBC and will just write about what is actually happening in my law practice.
The real estate market in Hoboken is surprisingly strong. New clients are buying and existing clients are selling their condos and moving to the suburbs. There is interest in new construction where developers are offering their own incentives to seal the deal. In fact when units are priced below the market I have seen bidding wars. On the other hand, units that are priced over the market don't attract any buyers.
There is no doubt that the Government's $8,000 credit to new home owners is having a positive effect on the real estate market in Hoboken and surrounding areas. The real estate section of my Law Practice has been getting much busier after a gradual decrease in closing that began to turn around in May \ June.
The interesting part is that over half of these new contracts are with buyers who do not qualify for the tax credit due to their income level, but are ready to buy a home that is reasonable priced. I see that the sales price of the houses and condos are more in line with the new market realities. The Sellers' are accepting the fact that their homes have decreased in value and that in many cases their equity is gone. Seller's are also aware that short sales are an option, with some banks forgiving the deficiency where the seller can show hardship.
The fundamental difference in the real estate market is that buyers are no longer looking to make money on the quick sale of their purchase. They are looking for long term value and the tax benefits that come from mortgage and interest deductions.
However, I don't think the market has turned around, many people cannot afford a substantial down payment and do not have the cash flow to pay for mortgage, taxes and maintenance. If you have the money it is a good time to buy a home to live in and enjoy, just don't expect any big gains in value.