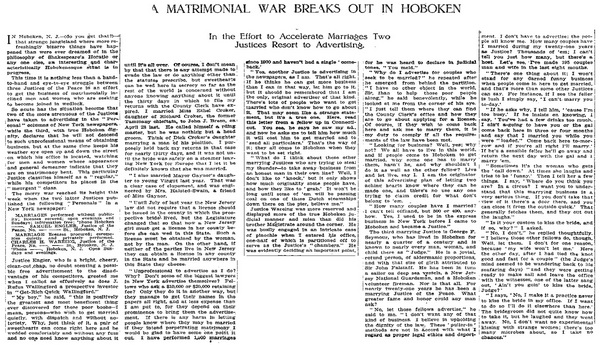 click on image for big pop up.
Hoboken developed a reputation for being the odd stepchild of New York many years ago. With all the recent development many of Hoboken's characters have faded into memory, but some are still around and welcomed in this wonderful city of ours. But years ago the streets were agog with people who did it their way. This article is about how in 1911 Justice's of the Peace were aggressively courting the business of marrying those couple on ther verge of saying "I Do", apparently this was a big business back in the early 1900's. Th article starts off with
In Hoboken NJ, that strange jungleland where more refreshingly bizarre things have happened than were ever dreamed of in the philosophy of Shakespeare's Horatic or any one else.
and ends with a quote from the Justice of Peace who,when asked if he kissed the bride after officiating at the ceremony, said
No I don't want no experimental kissing with strange women; there's too many microbes about, so I take no chances.