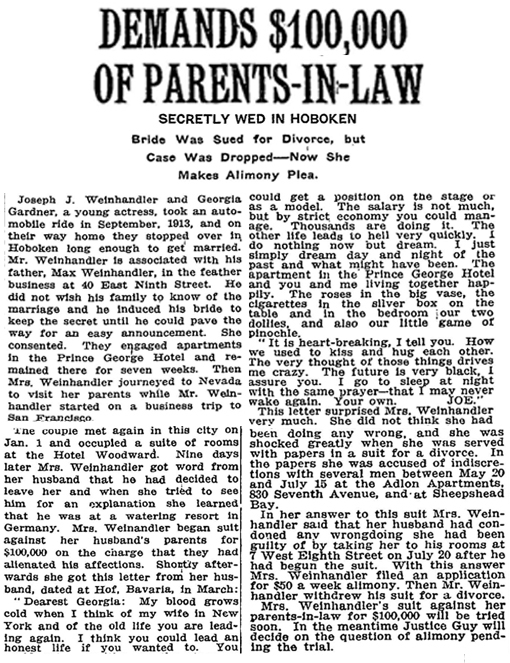 This is a great example of the opposite of no-fault divorce. In today's legal system the courts are not really concerned about whose was at fault in the marriage breaking down. Here the basis for the initial filing of the divorce by the husband was the fact the his new wife was accused of indiscretions with several men. Her legal response was that her husband condoned her "indiscretions by bringing her into his room after her indiscretions. On top of that she sued her husband's parents for talking him into filing the divorce suit to begin with and she also sued for alimony. In response to that he drops the divorce suit for what must have been his fond recollection his blissful days in the Hoboken Prince George Hotel where, and I quote from a letter the wife presented of proof of his love,
"I simply dream day and might of the past and what might of been. The apartment in the Prince George Hotel and you and me living together happily. The roses in the big vase, the cigarettes in the silver box on the table and in the bedroom our two dollies, and also our little game of pinochle…The future is very black… I go to sleep at nigh with the same prayer—that I may never wake again. Your own. JOE"
Well a person can no longer sue for "alienation of affection" and "indiscretions" is not a cause for divorce. But we can only hope that the new W hotel will give us some more juicy stories like this forlorn love story of Joe and Georgia.