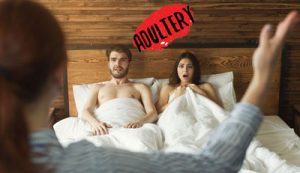 Historically, adultery has been something that could have a legal impact in two different ways: one in the area of family law and the other in the area of criminal law. Here in New Jersey, criminal penalties for adultery were abolished decades ago. An extramarital affair can still have an effect on your divorce, but those effects are limited. Whether it was you or your spouse who strayed, it is important to have a skilled Hoboken family law attorney on your side to protect your rights in a divorce action and make sure the outcome you get is a fair one.
Criminal adultery laws have actually been making the news recently. While New Jersey decriminalized adultery in 1978, other places still have bans on the books. Back in early November, a New York City assemblyman made news by introducing legislation that would wipe away the Empire State's criminal ban on adultery.
Here in New Jersey, there are several points in the divorce process where adultery may impact the case. First, let's look at the initial divorce filing. New Jersey law still recognizes adultery as a valid basis for seeking a divorce. (Some other bases include extreme cruelty, desertion, deviant sexual misconduct, imprisonment, drug addiction and mental illness.)
So, if one of you believes the other has strayed, then that spouse can seek a divorce based on adultery. It is not necessary to assert any type of fault at all, though. New Jersey has recognized what's called "no-fault" divorce for many years. A spouse may pursue a no-fault divorce simply on the basis of "irreconcilable differences."
Even in a case where the filing spouse has asserted adultery as a basis for the divorce, New Jersey law does not allow the judge to punish the alleged adulterer in the divorce judgment solely because of that infidelity. In other words, say there's proof of a wife's extramarital affair in a couple's divorce. That proof by itself does not allow the judge to reduce or eliminate alimony the wife otherwise would have been entitled to receive solely as a means to punish her for being unfaithful.
Marital money mismanagement and financial deception
There are ways, though, that evidence of adultery may impact an alimony or property division ruling. Assume, for example, the husband in the above example not only had proof of the wife's infidelity but also had evidence that she used marital credit cards, bank accounts or savings accounts to purchase expensive gifts for her extramarital partner and to finance luxurious trips she went on with her paramour. That proof might allow the judge to alter a property division ruling, not to punish the wife for adultery, but to reflect that her conduct had improperly depleted marital assets on an activity that was decidedly non-marital in nature.
Similarly, a court may factor in adultery-related dishonesty and fraud if it impacts marital assets. If, for example, a husband used accounts in his girlfriend's name to hide wealth from the wife and from the court, the judge can factor that dishonesty into the divorce judgment.
In short, adultery alone likely will not impact the outcome of your divorce in New Jersey. It can become an issue when there's what you might call "adultery plus," meaning adultery plus financial misconduct in the furtherance of the affair or financial misconduct as a way of defrauding the spouse in the divorce action.
Marital breakdowns happen for a variety of reasons, and sometimes they're very murky and complicated. Sometimes infidelity is involved. When that is the case, whether you or your spouse was the one who strayed, it is important to protect yourself in your divorce and ensure that the judgment you get is a fair one. Look to skilled Hoboken family law attorney Frank Marciano to provide you with the strong and thoughtful representation you need. To set up a consultation and find out how we can help, contact the office online or call 201.656.1000.