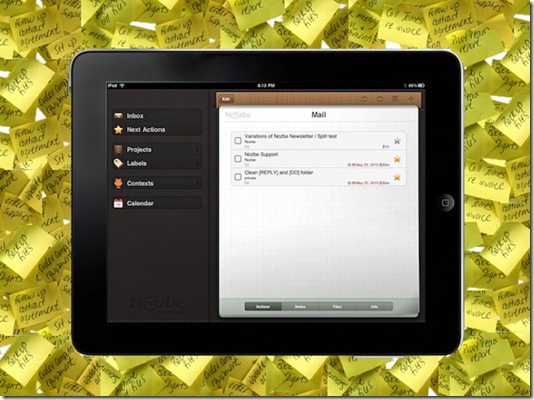 The above is a picture of a new software program on the IPad called Nozbe, a task and team management program that is helping to keep us organized and so that we can Get Things Done.
I don't need to explain how busy a person's life is in  today's work environment; too much information and not enough time.  Over the last few months I decided to explore the internet for team and task management  programs to try to create a more organized office that would makes us more efficient and better able to respond to our client matters.  After trying out over 75 programs we have decided to incorporate Nozbe into our daily routine.  It is a Web 2.0 program but it also has an IPhone and IPad Application.  It is a collaborative task management program that allows all of us here at Marcianolaw to assign and track all those things that must be done in a law office.  While it will not make us perfect we are trying hard to create a transparent and responsive client attorney experience.  You can also sign up for a free trial and take advantage of a truly useful tool that will help organize your daily life.  If you want to learn more feel free to contact Frank at the office.
Ps.  We are also coming out with a cool file management site that will allow us to post all client files in password protected portal on our web servers.  You will be able to access and store all your confidential and important legal documents on this web site such as deeds, mortgages, contracts, title policies, prenups, settlement agreement and anything else that you might need to reference.  Stay Tuned.