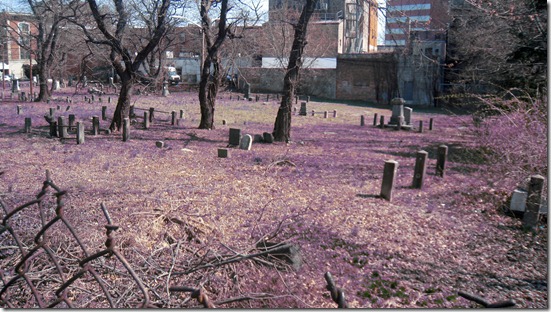 I had a case this week about rear yard setback zoning violations in Jersey City that came about when a landowner of a vacant landlocked lot filed a complaint against my clients innocent backyard Rubbermaid shed, (one like all the other landowners in the area) and forced the matter to court all because my client rightly complained to the City about overgrown weeds.
Well court worked out great with no fine to my client  However, day before court I went to my client's house to take pictures and in speaking to a neighbor I leaned about an existing cemetery behind my clients property that was behind a church in Jersey City. The cemetery was totally fenced in and  was sparsely filled with graves and stones from the 1750's that no one now remembers or visits.  One big old stone placed horizontally on the ground about 12 feet long and 3 feet wide had the names of 5 children who all died at the ages of 2-4 and then their parents name.  Old and forgotten and very sad.
(Upon doing some research it turns out that this is called the "Speer Burial Ground and or the DeMott Burial Ground, and that  "The cemetery is named for Abraham Speer, a Jersey City undertaker, bought the cemetery in 1857 and made it a public cemetery by selling burial plots for $16 each. It was used as a potter's field during the nineteenth century. The absence of records makes it impossible to verify who and how many were buried in the cemetery over the years. Headstones indicate the burial of the veterans of the Revolutionary War, War of 1812 and Civil War.")
Then in talking to the neighbor I asked if their were many rats in the area and he said no because they are prey for coyotes.  COYOTES, what did he say, and I asked him again, thinking he might have somehow meant the more common Cougars that are spotted all over the area, but no the said Coyotes, Now this cemetery is right off Kennedy Blvd near St. Peters College, and there  are actually Coyotes that according to the NJDEP "play an important role in the ecosystem, helping to keep rodent populations under control".  Well, that is just great, coyotes eat rats, now in a few years Wolves and bears will be moving into town to prey on the Coyotes!!!  Wonderful, just Wonderful.