June 27, is Helen Keller day, and I just happened to watch "A Miracle Worker" on TV, which is a great, great movie about how Helen Keller was taught to understand the world by her teacher Ann Sullivan.  Well, the part of Helen Keller was played by Patty Duke and she played such a great part that I looked her up on good ol' Google and come across another true family tale. 
'A family law attorney sees and hears a lot of what might be called " inconvenient truths"  but increasingly our culture, is more and more accepting of the truth.  What was scandalous years ago, is pretty much accepted, except for of course some people who don't understand that there is no standard, average perfect family, and how  it's the imperfections that we must all come to love and accept.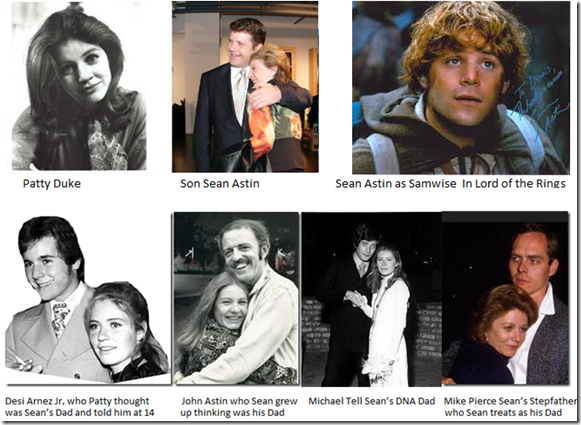 In The Lord of the Rings he cheated death, fought enemies and helped bring a gold ring to its destruction. But before taking on the role as Frodo's trusted sidekick, Sean Astin survived a struggle of a far more personal sort.
The rising star endured a childhood on the edge of destruction.
He grew up as the child of two Hollywood stars: Oscar winner Patty Duke who gets a star on the Hollywood Walk of Fame this month, and actor John Astin, who played The Addams Family patriarch Gomez. But his home life included Duke's battle with manic depression — and the shocking news that Astin was not his real father.
When he was 14, his mother told him that John Astin was not his biological father.Instead, she explained, he was born when she was 23 and single, after she had a scandalous affair with Desi Arnaz Jr., who was only 17. His mother, Lucille Ball, disapproved of the relationship and the tabloids seized the story.
"It was a horror," said Duke, who as a teenager had played a chaste young lady on The Patty Duke Show. "I was little Patty Duke who came into the living rooms on Wednesday nights."
When a stranger named Michael Tell came to sublet her apartment and offered to marry her as a way out of the scandal, Duke agreed. The marriage lasted only 13 days, and ended long before Sean was born.
After his mother told Astin that Arnaz was his father, the two developed a relationship, but in his mid-20s he met a relative of Michael Tell who suggested they were related. Sean set out to find his own truth about his biological father, hoping that genetic tests would prove it beyond doubt.
The tests had a surprising outcome: they showed that Tell was Sean's father.
"Desi Arnaz Jr. loves me, and I love him. We are so close," Sean says. "Science tells me … that he's not my biological father. Science tells me that Mike Tell is."
Sean considers John Astin his father, since he was raised by the actor. But he also maintains relationships with all three men in question, and his step-father, Mike Pearce, who married Duke in 1986.
"I can call any of them on the phone any time I want to," says Sean. "John, Desi, Mike or Papa Mike … my four dads."
His mother prefers to believe that Arnaz is Sean's biological father, in spite of the blood tests. So mother and son have agreed to disagree, and seem closer and more connected than ever.
"I think how we have survived it is that we are people who believe in forgiveness, and moving on," said Duke.
"Well, I don't think there's anything that much to forgive," said Astin. "I mean, not to me."
Duke says she is tremendously proud of her son's acting career. But she's most proud of his real-life character as he overcame a troubled childhood to become a mature adult. "He is at the core the decent, generous, loving, respectful man that I hoped he would be," she said.
She continues to work as an actress, most recently filming a series of mysteries for the Hallmark Channel which premieres Sept. 5.
In the end, the showbiz family is not so different from many others, with fights and forgiveness, illness and health, and ultimately enough love to survive it all.
"What I love the most about my mother is that she's a survivor. She wants to live. She's here. Because she wants to be," said Astin. "That's a good thing."