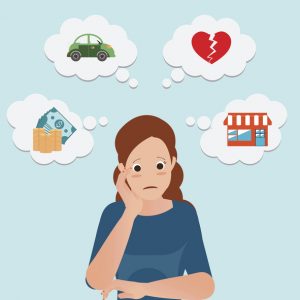 According to the American Psychological Association, nearly half of all U.S. marriages will end in divorce. For a whole lot of folks, divorce is (or is going to be) a reality in their lives. For some, a divorce may make them feel that "my life is over." Many people, though, find as much or more happiness, fulfillment, and, yes, love after a divorce as before. Of course, part of getting to those "better days ahead" is closing the current chapter of your life. When it comes time to get that healthy closure and to ensure that the divorce judgment you receive is a fair one, call upon an experienced Hoboken divorce attorney to help you through this process.
Obviously, no one enters a marriage with eager anticipation of a subsequent divorce. Divorce can, however, be a positive in certain ways. A late 2020 article from fatherly.com published comments from a dozen different men who had gone through divorce. One of the men, a Connecticut father of teens, stated that "divorce was the best thing to happen to my relationship with my kids. … [My] relationship with my kids is the best it's ever been."
Divorce may also free you to explore interests or preferences that you had placed on the "back burner" because of your spouse. Maybe you'd long desired a career change. Perhaps you'd always wanted to move somewhere warmer. Possibly it was something as simple as taking up a new hobby. After a divorce, those decisions are things you can make on a "me" basis instead of a "we" basis.
Your post-divorce life will probably also necessitate taking certain legal steps. If you have an estate plan, chances are high that your (now former) spouse is listed as a primary (or perhaps sole) beneficiary of your assets. He/she may also be listed as your beneficiary on bank accounts, retirement accounts, and/or life insurance.
Taking Control When You Want to Cut Out Your Ex… and When You Don't
All of these things need to be addressed now that you're divorced. For most people, this means making changes to your estate plan and your beneficiary designation forms or getting a new estate plan entirely in order to "scrub" your ex from your plan. Making changes or creating new documents allows you to clarify, in the wake of this major life event, who you do (and don't) want to get your wealth after you die.
As a specific (and glaring) example, a few years ago, a Virginia man inadvertently left his ex-wife almost $125,000. The man had obtained a life insurance policy and completed a death beneficiary form. After that, he subsequently got divorced, remarried, and died years later… but he never changed the beneficiary form on his life insurance.
When he died a decade after he and the previous wife divorced, she was still the person named on the beneficiary form so, according to the U.S. Supreme Court, that meant the previous wife got the proceeds from the insurance policy. (Moral of the story: don't just hope or assume that the law will have rules that automatically "fix" everything; instead, get legal counsel and be proactive in ensuring that everything is "fixed" the way you want it.)
For some divorcing couples, the challenge is different. They may be divorced now but remain close friends, and one or both may desire to leave money or other assets to their ex or to have their ex serve as their agent under a power of attorney. When your divorce became final, that judgment may have automatically wiped out certain provisions you made with regard to the person who is now your ex, so it is especially vital that you consult a knowledgeable attorney to find out what steps you need to take.
The first step, though, is getting your divorce. Procrastinating on this can have multiple negative impacts on both the personal and emotional side and the financial and legal side so, once you've identified your marriage as unsalvageable, it is best to get started without delay.
Start the process by getting in touch with experienced and caring Hoboken divorce attorney Frank Marciano to obtain the thoughtful, attentive, and personalized legal representation you and your family deserve. Our office strives to provide each client with the customized and effective legal solutions they need. To set up a consultation and find out how we can help, contact the office online or call 201.656.1000.