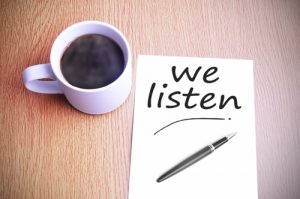 A very large nationwide personal injury firm has a billboard that boasts in very large letters that "Size Matters." On the flip side, the thousands upon thousands of extremely satisfied clients of solo and small firm attorneys have recognized something else, which is that, when it comes to legal representation in your divorce or estate planning matter, small may actually be a significant benefit, not a drawback. As you consider retaining someone regarding your divorce or estate plan, consider the substantial benefits that a diligent Hoboken solo or small firm attorney can provide.
All good attorneys, regardless of firm size, want their clients to be successful and to leave the relationship feeling fully satisfied and confident that they received quality legal representation.
Sadly, this outcome does not always come to fruition, as an unusual news story from February 2021 illustrates. An unhappy legal client in England left a negative comment on a review website in which he called his London law firm "another scam" and a "waste of money." That review got the client hauled into court, where a judge found him guilty of defamation and awarded damages to the law firm.
Of course, once the verdict hit the news, all kinds of people swarmed the website to leave poor reviews of the firm, causing its rating to plummet.
There are a few ways you, as a client in need of legal services, can enhance your chances of walking away feeling satisfied… unlike this client from England.
One is to ask yourself: what do I need most from my attorney? Some clients may have needs that may lead them to consider a large law firm closely. If yours is a highly technical product liability or environmental tort matter that requires lots of investigation, lots of discovery, and lots of experts, having the resources a large firm can bring to the table potentially may be advantageous.
However, if your matter is something more private – like estate planning or divorce – then your needs are different. For these needs, a solo attorney or small firm is often ideally positioned to provide you with the kind of representation you want and need.
Personal Issues Require Personalized Attention From Your Attorney
Estate planning and divorce matters can be very emotionally charged, frequently involving complex familial relationships, including feelings that could be hurt by what you decide or feelings that are already hurt based on what has occurred.
For example, say your estate planning issues involve children from your first marriage with whom you have an acrimonious relationship. You wish to disinherit them entirely in your estate plan and leave all your wealth to your siblings and stepchildren instead. Discussing this with your attorney — including the reasons why — can be difficult but may also be necessary.
Your divorce case may involve recent infidelity by one or both of you that may have triggered bitterness and animosity. Again, that's often a painful topic to broach but it could very important to how your attorney proceeds with your case. When you and your attorney have not only a good working relationship but also a strong personal connection, having these uncomfortable but essential discussions may come easier.
And when you have an attorney who is willing to really talk to you and spend time with you, he/she may have, not just the legal knowledge of the case, but the personal knowledge of you to know the right questions to ask that will get you talking.
Your solo or small firm attorney is often going to be able to provide you with more personalized attention. To him/her, you're not just "Client #83," you're "Jane Doe whose husband suddenly and unexpectedly filed for divorce after 36 years of marriage" or "George Roe who needs an estate plan but has a very complicated family dynamic involving an illegitimate child from an extramarital affair his wife doesn't know about."
When you have a divorce or estate planning need, you're probably going to have a lot of questions. Sometimes, those questions and needs may not be 100% legally-focused in nature. Your solo or small firm attorney will be there to help. Rely on experienced Hoboken attorney Frank Marciano to provide you and your family with the thoughtful legal advice you need and the personalized attention you deserve. To set up a consultation and find out how we can help, contact the office online or call 201.656.1000.