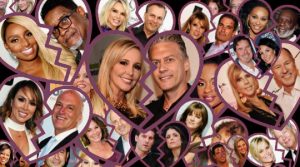 Most of us will probably never live the high-flying lifestyle of celebrities, but there may still be things that people of all walks of life can learn from a celebrity divorce. In the case of the divorce of one of the Real Housewives of New Jersey, that lesson is the potentially substantial benefit spouses – especially those with children – can achieve through using the mediation process effectively. Even if you are working collaboratively through the use of the mediation process as opposed to proceeding in an adversarial process, it is nevertheless extremely important to have a skilled Hoboken divorce attorney on your side to protect you and your relationship with your children.
Fans of the Real Housewives of New Jersey will immediately recognize the name "Teresa Guidice" as a starring cast member on all 10 seasons of the reality TV show. In 2019, after two decades of marriage, Teresa and husband Joe separated.
In early September 2020, the attorney who handled the couple's divorce mediation announced that the couple had finalized their divorce, according to a People report. The Guidices, who were also the parents of four daughters ranging in age from 19 to 11, successfully resolved all of their divorce issues through the mediation process, according to their mediator.
When you are going through a mediation process, you, as a divorcing spouse, should try to embrace it as an opportunity to help yourself and your family.
The many potential benefits of a mediated resolution
Whether you are the "jet set" or are blue-collar, mediation can help in many ways in your divorce. Resolving your disputed issues through mediation has the potential to save you time and save you money. It also has the potential to save you more time, money and stress in the future.
That's because, when you reach a mediated solution, you and your spouse, with the mediator's facilitation, have yourselves decided what the resolution will be, as opposed to a judge deciding for you what the outcome will be. This gives you more control and this greater degree of ownership of the process may make for a more lasting resolution that is less likely to bring you back to court in the future on someone's motion to change some aspect of the ruling.
Another possible advantage of mediation is its collaborative nature. Mediation, when it works, is a process where two sides come together to reach a mutual agreement on the disputed issues. Litigation, by its nature, is an adversarial process in which you seek to prevail over your spouse on the positions you staked out.
If, like the Guidices, you're parents of children (especially minor children,) a collaborative process may offer many non-legal benefits as you and your ex-spouse continue to co-parent your children. Adversarial processes, by their contested nature, may have a greater chance of fostering hostility or bitterness between you and your spouse, either as a result of things said during the trial or the nature of the outcome of the case. A collaborative process may leave you with a healthier relationship with your ex-spouse, which is always a benefit to the children.
Mediation is not a litigation process in a courtroom, but that doesn't mean you don't need a skilled legal advocate. For the advice and advocacy you need regarding your divorce issues, count on knowledgeable Hoboken divorce attorney Frank Marciano. To set up a consultation and find out how you can put the power of this office to work for you, contact the office online or call 201.656.1000.